We're pleased to offer the following services at Cushing Square Veterinary Clinic:
SURGICAL & DENTAL SERVICES
Biopsy
Dental Prophylaxis, Digital Radiography & Extractions
Soft Tissue Surgery Including Spay/Neuter

WELLNESS CARE
Comprehensive Physical Examination
Health Certificates
Home Again Microchip
Routine Worming
Vaccinations

HOSPITAL SERVICES
General Anesthesia & Sedation
Humane Euthanasia
House Calls
Intravenous Fluid Therapy
Pharmacy
DIAGNOSTICS
Biochemical Profile, Complete Blood Count, Electrolytes
Fecal Parasite and Urinalysis
In-House Infectious Disease Testing Such As Feline Leukemia, Heartworm & Lyme Disease
Radiology
Thyroid Screening & Monitoring
Abdominal Ultrasound & Echocardiograms
Cytology
Blood Glucose
Blood Pressure
Electrocardiogram
Intraocular Pressure

PRESCRIPTION DIETS
Hills
Purina Veterinary Diets
Royal Canin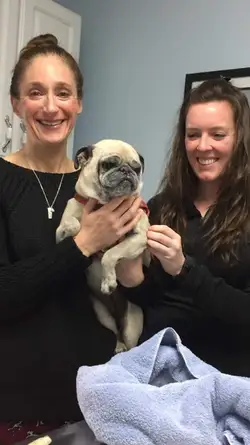 Our appointment book is computerized, which allows us to efficiently make appointments for you and your pet. Our receptionists and team will attempt to accommodate all requests to the best of our ability. Emergencies are accepted anytime our clinic is open. If you feel you have an emergency with your pet, please call us or come in immediately. If possible it is best to call before coming in so that a staff member can advise you on your particular emergency.
We have a veterinarian and personnel on duty six days a week who are trained and equipped to handle any urgent care your pet has. Usually an emergency team consists of at least one veterinarian and several technicians working together to save a pet's life. Emergencies can be things such as accidental ingestion of rat poison, hit by car, and chocolate ingestion. If you ever feel that your pet needs emergency treatment do not hesitate to call or come in immediately.
We are also available for urgent care when the condition is not life-threatening. If you feel your pet needs to be seen before you are able to get an appointment, our veterinarians will work to "squeeze" you in between scheduled appointments. When you arrive, our receptionists will be able to give you an estimate on how long you may have to wait in order to be seen.
Dogs
Cats
Rabbits
Pocket Pets
The Cushing Square Veterinary Clinic offers discounted services to senior citizens, members of the police and fire department, and local area rescue groups. Pre-approval is required to qualify for the rescue group discounts, please call us for more information.